Businesses, especially SMBs, are no strangers to change in this ever-evolving fintech world. Millennials and even older generations have adopted online shopping as the norm, making trips to brick and mortar stores less frequent.
Ecommerce businesses have the ability to connect with customers in more ways than ever before. Being an omnipresent company has never been so crucial. Lucky for us, we live in a digital age and having a strong presence on the web, social media, and in as many outlets as possible is easier than ever.
Start increasing your traffic by implementing these 4 trends in mobile ecommerce
1. Showcase Customer Reviews
What's better than letting your customers do your marketing for you? 88% of consumers say they trust online reviews as much as personal recommendations. Product assessments conducted by valid customers ,can give on-the-fence buyers that extra push to complete an online order. Glowing reviews and testimonials can even be displayed on your website and social media outlets as a reinforced effort for overall reputation management.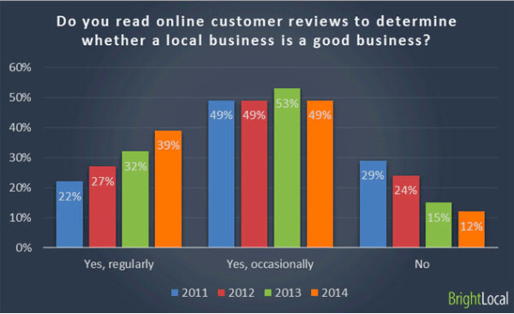 Image courtesy of searchengineland.com
2. Go Live!
Trends show us that social media users are loving the live video, and most of them are doing it through mobile devices. There are tons of free video-creation outlets such as Facebook's live-stream feature, Instagram's video stories, Twitter's Periscope, and of course YouTube. For good reason, Social selling is a sales practice garnering more notoriety (because it works!) and leveraging video plays a huge role. Creating short videos to share with your mobile audience is a great way to communicate on a more personal level while helping the buyer feel directly connected with your company's vision. See how big-name companies are leveraging video in their sales tactics.

3. Paid Ads Targeted For Mobile Device Users

It has become common knowledge that most social media and web outlets are "pay-to-play," meaning putting ad spend behind your efforts gets you significantly more exposure and is a crucial step in your company's success. A major aspect to take into consideration when delegating both social media and web ad spend is targeting your users. Statistically, most people accessing general online outlets are using mobile devices. So naturally, targeting your advertising audience for mobile device users is key.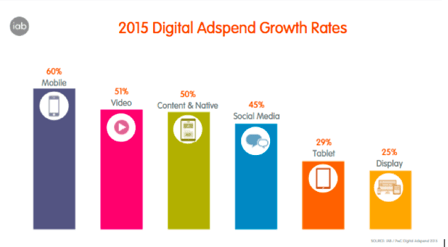 Image courtesy of Internet Advertising Bureau UK
4. Mobile Ecommerce Features & Apps
Ecommerce is taking mobile business by storm projected to grow from $394.86 billion in 2016 to $491.5 billion by 2018. Companies of all sizes are leveraging the power of social media in conjunction with mobile purchases. Best part? Most of these ecommerce tools are free to use! Here are a few of the top trends your business can easily implement: