Contributing Author: Allison Smith

The Food Truck industry remains the fastest growing branch of the foodservice industry. According to the National Food Truck Association, the industry dates back to the great depression when Americans resorted to selling produce and meats in the streets. Food trucks offer a more mobile, lower-risk option to the traditional restaurant. In times of financial discourse, a food truck can be a much more successful and less-risky option for a restaurant owner. More and more restaurants chefs and owners have decided to take to the streets rather than start a traditional brick and mortar restaurant as a result of the 2008 recession and the growing industry trends towards convenience and mobility.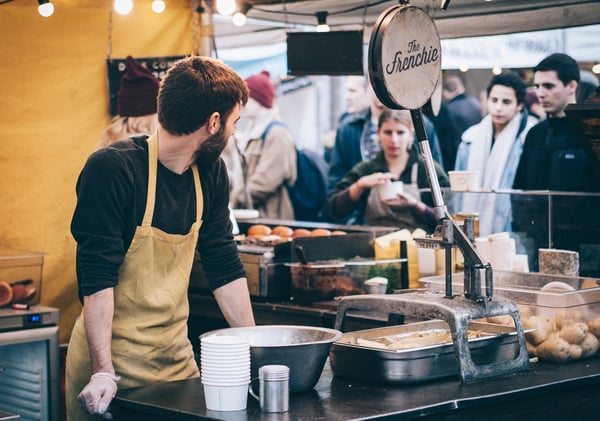 Opening a food truck is by no means the pretty picture painted in movies or tv shows. It requires hard work, dedication and extensive planning. If this is your dream- I'm here to help by laying out the crucial first steps in getting started and most importantly the licenses and permits that are crucial to daily operation.
Start with a business plan
Draft ideas about business model

Design your brand, logo and advertising plan
Financial Planning

Cost of truck

Supplies

Signage

Licenses and Permits

Those depending on city and state (varies constantly)

Those applied to all cities and states
Rules and regulations regarding food trucks differ depending on the city and state you wish to operate in. Another important consideration is the alternative destinations you may wish to set up shop in. For example, if you want to embark on a cross-country road-trip- you will need to consider the different rules and regulations for each state that you will pass through. Having this prepared will ensure you are well equipped regardless of the state to state differences.
So, what will you need?
Tax ID number (also called an Employer Identification Number, obtainable for free from the IRS). This federal tax ID will be used on forms and applications instead of your personal social insurance number.

Business License (sometimes referred to as a vendor license) - Available from your specific state is what actually registers your food truck as a legitimate business

State Sales Tax Permit (low priced and easy to get your hands on)

State specific requirements (listed below but definitely try using this online service called Zoom - they'll help you figure out which rules and regulations apply to your state.)

Payment System- Acquiring a mobile POS that is a dynamic as your business will ensure that you are always prepared for every option.

Payscape's POS

includes the software, hardware, analytics and customer-friendly design that you need to keep your customers coming back.
The details:
Business License Requirements
First, you need to acquire a business license from each of the jurisdictions you wish to do business in. To aide in this process and allow your food truck to travel, some cities will provide a 'temporary business license' at a lower price, especially if you plan to be there for a short period of time. (IE: music festivals that are destination based lasting about 3-5 days).
Health Department Requirements
For your truck to begin selling food to customers, it must acquire a food permit from the local health department. The purpose is to prevent food borne illnesses and make sure your truck passes all safety requirements.
Local Food Truck Regulations
Food Trucks on Public versus Private Property
Both have unique requirements

Public

: requirement to pay leasehold excise tax

Government will factor this in when determining food truck rates and make sure that gets to the Department of Revenue

Private

: If your truck is complimentary to your brick and mortar (for instance a local restaurant has an outdoor patio and serves limited menu items and/or drinks)
NEW Recent Legislation: SHB 2639
In the beginning of 2018, a law was passed that no longer requires food trucks to have a brick and mortar to prepare and store food in addition to the truck itself.

Certain holding and storage temperatures based on type of food / produce and preparation.
Before you hit the road, you will need to pass inspection with your city's health department (plan on having this done yearly). And also be aware of a surprise inspection from a health inspector. This is another reason having all of these listed licenses and documents is crucial in case you need to show them to an inspector.
Once all of your ducks are in a row, go out there and make some sales! For more information about how to manage all things-tech for your new restaurant or food truck, check out our ebook: Restaurant Tech Tips