Writing a successful catering invoice can be challenging. There are many components of outlining your invoice that is clear for both you and your clients. As you may know, there are SEVERAL pieces that are needed to cater events. Anything from specific types of chafers to the 150 mini tacos that need to be prepared on site will cost you, as the caterer, money and time!
That is why it is important to have a detailed invoice that accounts for every little expense possible, even a rain back-up plan! Being as detailed as possible will not only benefit you and your employees, but it will clearly show the client what exactly their money is going towards.
Well written invoices help to clarify what exactly is need for your event, which makes scheduling and preparing go much smoother! More caterers plan for the unexpected, the more they will have successful events .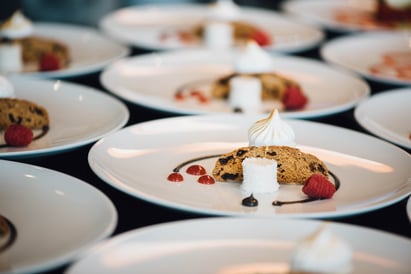 Top to Bottom: What should be on your invoice
There are tons of different ways you can layout your invoice and you need to decide what will be the best way to lay it out for your clients. The example invoice broken down here is from a Payscape template that has all the necessary information to create a successful invoice!
For starters add your business's logo or any other way you want your business to be recognized. After that, the contact information of your business and any of other details like terms or where to make the payment.
Also, not only should the invoice be dated, but it is important to have a due date listed. Make sure the due date has been made clear to the client to avoid any unnecessary misunderstandings in the future.
Here is a blank example of how you can layout this beginning information.
YOUR LOGO OR CATERING BUSINESS NAME HERE
INVOICE
Remit payment to:




Your Business Name

Attn: Your Name/Payments Manager Name

Address Line 1

Address Line 2




Tel: (XXX) XXX-XXXX

Invoice Date:

Invoice Number:

Due Date:

Terms:

Make Payments To: Your Business Name
Contact information and details
The next section of the invoice should include the client information. This not only for your records, but also to reassure them that this is the correct invoice. The basic client details are needed such as name of client, their number, and the address of both the client and the event. To clarify, address line 1 should be the actual address of the client and the address 2 should have where the event is held.
In this section you should also add in what type of event you will be catering such as wedding or anniversary. Most all catered events have a confirmed or estimated guest count, be sure to add this in this section also.
The payment methods accepted need to been clearly defined. This will save your customers a call and helps the payment process to be more efficient. Add in any necessary usernames or addresses that the client will need to use for online payments.
Invoiced to:




Client Name



Attn: Specific Contact if Applicable

(Client Address) Address Line 1

(Event Address) Address Line 2




Event Type:

Guest Count:

Payment Options: (this is where you list acceptable methods of payments)

PayPal: INSERT EMAIL ADDRESS WHERE YOU ACCEPT PAYMENTS

Check: YOUR NAME/BUSINESS NAME

ADDRESS LINE 1

ADDRESS LINE 2
Venmo: USERNAME/PHONE NUMBER UNDER ACCOUNT
Finally, the most important part for the client and for your inventory of the event: the detailed line item section. This section should break down all the prices and quantity of all items bought and rented. The cost of event space, rentals, employees, amount of food, and drinks should all be listed in the line item fees. Look at the example below to see how the items should be laid out. Going into this much detail will help the client to understand the end amount.
Again, paying attention to detail is key in this section. The exact amount of hors d'oeuvres needed, how many pans of mac and cheese will feed 150 people, back up glassware, etc. need to be broken down by individual prices for each then multiple to by the guest count (for food and table settings).
That way when the client hears the end amount they will have something to justify why the cost may be steep.
DETAILED LINE ITEM FEES

Date

Service

Description

Qty

Rate

Subtotal

03/25/2016

Miscellaneous Fee

Miscellaneous Fee

1.00

$150.00

$150.00

Comments:

Insert any comments about your invoice here. Example:
Your Current Account Balance as of 03/29/2016 is $23,145.78

Subtotal:

$150.00

Total Tax:

$0.00

Payments:

($0.00)

Total:

$150.00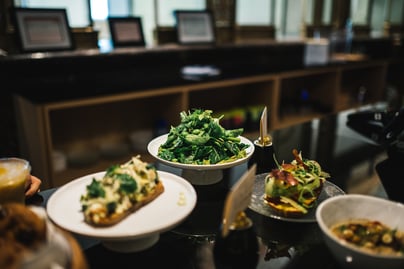 Wrapping up
The breakdown of the template is very simple and easy for anyone to understand. Every catering business is different, which is why you will need to tailor it towards your style. Remember you have the freedom to add your own personal touch in the design and colors, but keep it professional and simple.
Again, when writing a catering invoice you must take every little expense into account. Clients are paying large sums of money to have a perfect event. It is your responsibility as the caterer to be prepared for anything that can go wrong and to have a well trained staff that will keep the event running smooth.