Over the last few months, our product development team worked tirelessly to refresh our legacy mobile app, iTransact. As of August 1, 2020, the newly designed Payroc Mobile SDK App will be officially launched on iOS and Android for business owners to use!
Payroc's software development kit (SDK) allows developers and independent software vendors (ISVs) to implement a semi-integrated, certified chip-card transaction (EMV) solution directly into their own mobile application to accept chip-cards, EMV, card swipes, automated clearing house (ACH), cash, and manually entered transactions with omnipresent reporting.
This will allow developers and ISVs to see their entire transaction history, both mobile and online, in a single place. The SDK also has surcharging capabilities, and will soon be integrating RewardPay™, Payroc's in-house compliant surcharging program that accepts both ApplePay and AndroidPay. The payments will deposit directly into a bank account of the business owner's choice.
App View of Individual Transaction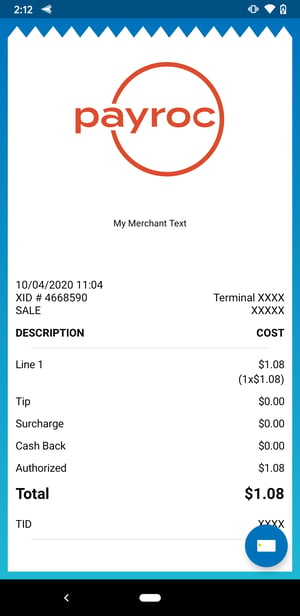 What's new in the app?
A refreshed and modern interface

Full point-of-sale features such as payments, voids, refunds, electronic receipts, and complete transaction history

Integrate RewardPay™ for mobile compliant surcharging!

Compatible with Android & iOS devices

Customizable: change background colors, sounds, themes, animations, fonts, and more!

Enable tax & tip

Omnichannel payments and robust reporting

Dip or Swipe cards quickly, or simply type in the information (also ACH)

Payments deposit directly into a bank account of your choice

Our new Mobile SDK helps software providers integrate directly into the app
FAQs:
What are the mobile reader options?

The new IBX mobile app uses the same mobile reader device as the old iTransact app

What's the cost?

The IBX gateway and hardware pricing will stay the same.

Will the iTransact app still be available?

For now, yes! You will be able to continue using the existing iTransact app, but we highly recommend downloading the new Payroc Mobile app for a better user experience.
Transaction History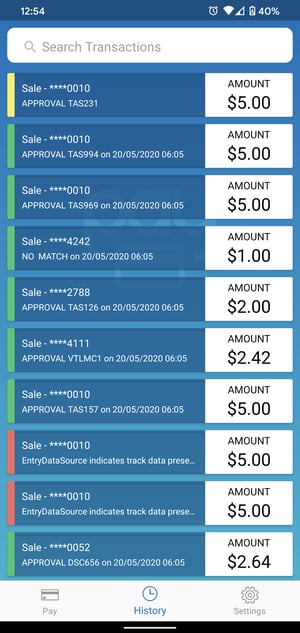 ---
Transaction Acceptance