We always express the amount of pride we take in our employees, but in honor of National Dog Day, we wanted to give some special shoutouts to the #PayPups! We're going to introduce you to 7 of our furriest family members here at Payscape. Try to hold your "awwwws" to the end.
PayPup: Bernie
Human: Alex, Director of Marketing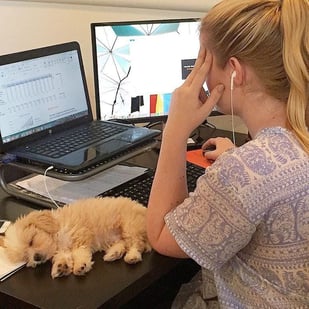 All day, everyday, find me napping on Mom's desk
Bernard "Bernie" McCandless, nice to meet you! I'm the newest member to the pup fam, a 3 month old Shihpoo. In case you're confused, that means i'm a Shihtzu and Poodle mix. Right now I love teething and my ping-pong size tennis ball! My favorite thing to do is go to work with Mom and try to escape her desk to say hi to my fellow Scapers. @bernie.mc
PayPup: Kate
Human: Caleb, District Sales Manager, Louisville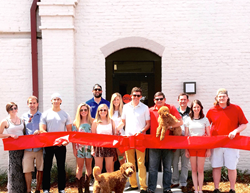 Front and center at the office ribbon cutting
I'm Kate, the adorable golden-doodle from Louisville, KY! I'm just a year old but I hang with the big dogs at Payscape, fetching balls up and down the office stairs and playing with my rubber chicken. My dad says the 2 words that describe me are "spoiled rotten", but he's just jealous I have more Instagram followers: @Kate.Doodle.
PayPup: Z-Bo
Human: Gerry, Account Manager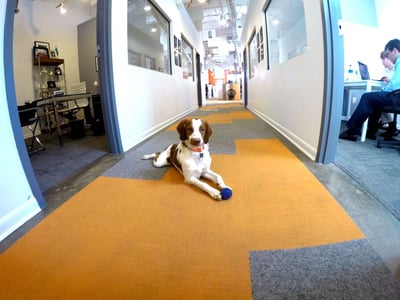 Chillin' in the Atlanta office
What's up everyone! My name is Z-Bo and i'm a 2-year-old Brittany Spaniel. I love bones and I love to hunt. So hide my bones and I will hunt for them! I love coming to work with my dad almost everyday (I practically insist on it)! I will be a camouflage hunting bad a** for Halloween. So,watch out, you may not know when i'm sneaking up on you. Pow!
PayPups: Wilson and Roux
Human: Jon, District Sales Manager, Birmingham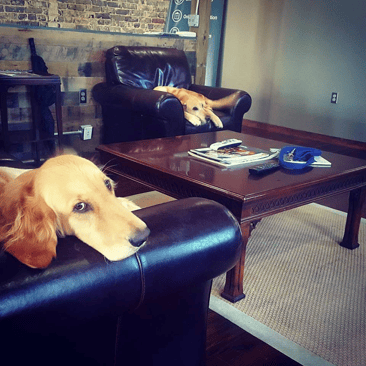 Reppin' the PayPups @ the Bham office
This is Wilson and Roux reporting from Birmingham, AL. I hear you want to get to know about us? Well I, Wilson, am a 10-year-old Golden Retriever. I love my pink bear toy, sleep and riding in the truck with Dad, that's what we old folks do. And I'm Roux, a 2-year-old Lab and my favorite toy is humans ;) We both love going to work with Dad and giving him endless love for rescuing us! Now if you will excuse us, it's nap time.
PayPup: Henry
Human: Trish, Talent Acquisition Specialist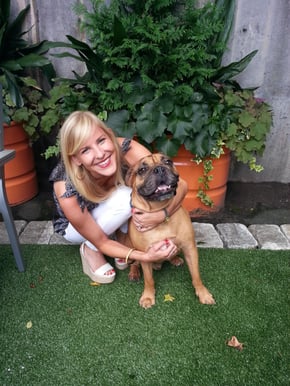 Hanging in the Payscape Garden with Mom
I'm Henry, an Olde English Bulldog who just turned 8. I love sunbathing, watching Law & Order and (obviously) going to work with Mum. And be careful with those ears, they are my tongue's next target! My Halloween costume this year will be MVP: Most Valuable Puppy, because I'm a cuddle monster and ready for football season!
PayPup: Lucy
Human: Rachel, Technology Integration Specialist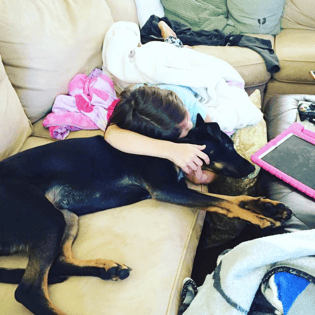 Work week snuggles
Hello darlings! My name is Lucy and i'm and 8-month-old Doberman mix. My favorite thing to do is jump in rivers, go on walks, cuddle and chew everything to pieces. Watch out if I see your shoes! I also love playing dress up with my humans and coming to work to see all my friends! I keep asking my mom for a hamburger but she keeps giving me this kibble n bits looking stuff. #ew
PayPup: Earl
Human: Adam, Co-Founder & CFO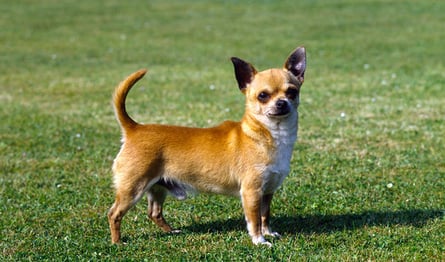 Waiting for my human to toss the ball!
I'm Earl the Chihuahua, and my dad is the fur-baby lover that lets all the dogs come to the yard (the office anyway). I love playing with my brother and sister and want to wish everyone a Happy National Dog Day!
Want to make your pup an official #PayPup? We're hiring in 14 cities, so apply for a job with Payscape now:
OR
payscape.com/careers