Back to News
A Organization's Cheat Sheet: Implementing Effective Fundraising Techniques
Organizations have been fundraising for a long time but the means of doing so change all the time. There's no, one, perfect way to raise funds but there are a number of tried & true methods which most of us know about:
Events

5k/10ks

Concerts

Auctions

Email Campaigns - MailChimp, Constant Contact (to name a couple!)

Snail mail - don't sleep on the classics
While these methods are proven to be effective and should be used when appropriate, there are a couple of really creative methods I've seen more and more lately from some of my clients and we want to share a few of those with you here!
Mobile Giving is Key:
We've all heard about the statistics about web traffic on mobile devices - it's safe to say that at least half of all web traffic goes through mobile devices today. How does that translate to fundraising?
According to Mark Barry's article, 15 Techniques Used by Top Nonprofits to Boost Donor Acquisition and Online Fundraising Results, over 17% of all online transactions were made using a mobile device. He goes on to explain that this trend is not slowing down so it seems clear that organizations, large and small, need to make efforts to optimize their giving platforms for mobile devices. Here are a couple of tips for doing so:
Make sure your website is responsive - Mobile-friendly design won't cut it anymore.

Use very clear, concise CTAs - this is important when viewing from any device but even more crucial for mobile traffic.

Incorporate Social Media Campaigns
Beyond just having a strong website for mobile devices, text-giving is becoming more and more popular. Be sure to do some research on different platforms and providers for that service to find out if text-giving would be a good option for your organization.
Putting a Spin on the Classics:
There's a fine line between refusing to evolve and reinventing the wheel. It's important to try new things but the key is to make sure you aren't moving away from the aspects that make classic fundraising techniques so successful. One of the best ways to do that is to put a minor spin on some of the classic techniques. Here are a couple of our favorites: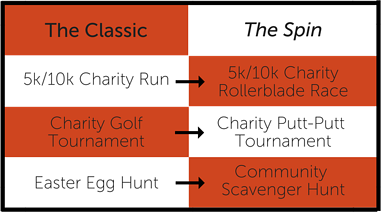 Those are just a few examples of proven, traditional fundraising events that can be improved on.
A 5k is great but has been done by nearly every organization out there and a roller race is a great way to stand out from the crowd.

Golf tournaments are great - for those that play golf - but a putt-putt tournament is fun for the whole family.

Lastly, Easter Egg Hunts are excellent for families with young kids but only on one day of the year. What about the other 364? A scavenger hunt is a way to take the same idea without any seasonal restrictions and simultaneously reach a much wider demographic of participants.
Organizations have to continuously adapt in the way they are reaching out to new donors and re-marketing to existing ones. Keep it simple, but fun. Be creative and engaging. Stand out from the crowd and get the support your organization deserves!