Back to News
Connecting the Dots of Modern Business with Quantic
Payroc has partnered with MetisPro to deliver a full-service product suite to agents and merchants: Quantic.
This product suite offers solutions for many SMB and enterprise business use cases.
"Quantic is a versatile platform combining POS, eCommerce, and eInvoicing, that allows merchants to seamlessly manage their complex business from a single portal," says Dillon Nitopi, product sales manager. "Combined with the cost savings of RewardPay Choice, we believe Quantic connects the dots for modern business to thrive."
Each Quantic product is fully integrated with RewardPay Choice, giving businesses the potential to save thousands of dollars in monthly processing.
Quantic POS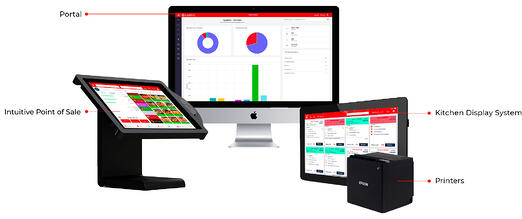 This product helps businesses run the full house, from front to back. Quantic POS makes ringing up sales, managing inventory and processing payments easy with one simple platform.
A busy night at a restaurant calls for a system that staff can maneuver quickly and intuitively. Quantic POS enables users with service area management for swift guest seating, table-side service payments and menu management to keep inventory items updated.
Quantic POS is also a full-service platform for retail businesses. Retail locations are able to manage their vendor information within a single interface - providing a centralized place for all supplier data. All transaction types, purchases, returns or exchanges are made easy and seamlessly.
Additional Key Benefits:
Employee management
Cloud-live reporting
Customer management
Quantic Services

Entrepreneurs need a rapid, full-service system in the field-service sector. When completing a service appointment, these entrepreneurs need a quick solution that is convenient to use for payment acceptance and invoice management.
Quantic Services provides a way to do just that. As long as you're connected to an internet-capable device, you have the ability to run your business.
Electronic invoicing is a feature of this tool that streamlines the payment process. Merchants can send invoices, set due dates, and collect and track paid invoices right from their inbox. Sometimes payments can be taken right then after service completion, in which Quantic allows you to quick-charge customers from the platform.
Having a clear picture of business analytics is essential in management - view detailed sales reporting on check averages, top-selling products or services and net sales with the click of a button.
Quantic eCommerce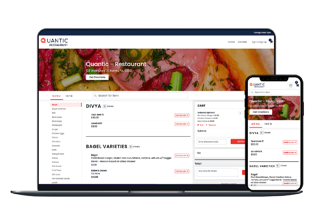 As customers increasingly look online for their next food order or general purchase, digital presence is crucial for modern day business growth. Quantic eCommerce provides businesses with an online website to grow business.
Restaurant online ordering has become a huge part of daily business flow. Quantic eCommerce offers an online platform for direct to kitchen ordering. Direct ordering is connected to the kitchen printer, meaning staff just prepare the order for pick-up.
This instant connection speeds up the ordering process and cuts out expensive third-party ordering apps.
Customers can either choose to order directly or schedule ahead for a later pick-up. Additional order options with an online platform open a new avenue for business revenue. Both retail and restaurant businesses have full access to the tools on all Quantic products.
Quantic has the solution for any business need. For more information on how Payroc and Quantic can help grow business, contact us here!