Contributing Author: Robert Callahan
Let's be honest: there really is no perfect time to call prospects, and no perfect subject line that will make them open every email. Prospecting is hard! In fact, 38% of salespeople struggle most with prospecting. It's a challenge to say the least, but with a little bit of guidance, it doesn't have to be. Take into account these four considerations to ensure the most efficient follow up success with your prospects:
1. Number of Touchpoints
It's crucial for all salespeople to understand that not all leads are ready to jump into an investment right off the bat. However, you should never stop following up just because a prospect wasn't ready to buy immediately. Sales takes time. In fact, 50% of sales don't happen until after the fifth contact.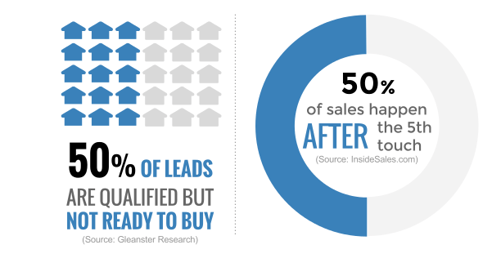 So how many times should you should follow up with prospects?
Extensive research and studies have been devoted to this question, and even though there's no golden rule, experts say that seven or more touches is the general amount of times you should follow-up with prospects. One thing is certain: persistence always wins with sales.
2. Use More Than One Outreach Channel
It's as simple as it sounds. Use more than one outreach channel to stay in touch with prospects. Nowadays people are using all sorts of networks to stay in touch and communicate. While email is an efficient way to connect with prospects, it isn't the only way to follow up. One effective strategy is to utilize social media platforms. For example, liking a prospect's LinkedIn post or tweet will help you get under their radar.
The overall goal is to touch prospects in different ways in order to stand out among the rest. Find out what works and think outside the box.
Keep in mind that not all times and days of the week are convenient when trying to reach prospects. It's important to strategically plan your follow up so that you catch your prospect at the perfect time. This way you increase your chances of getting a response.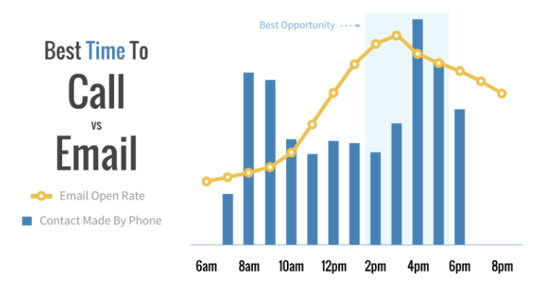 Wednesday and Thursday come out on top for both email open rates and phone contact rates.
So what's a good follow up schedule?
According to Hubspot, here's a cadence proven to work well:
Day 1: Call and email

Day 2: Email and Twitter

Day 3: Twitter

Day 5: Email and LinkedIn

Day 7: Email

Day 10: Call and email

Day 17: Email and Twitter

Day 21: LinkedIn

Day 28: Call and email
Of course the days will vary depending on the prospect. For example, most people tend to not check their emails on weekends, and Mondays are known for being the worst weekday for email open rates. All prospects have different buyer personas, so research which form of contact works best and create a follow up schedule that accents that contact channel for your prospects.
4. Content of the Touchpoint
The content and tone of your email or call is the deciding factor between coming across as a pesky salesman or a professional businessperson. Starting each touch with "just checking in" or "just following up" gets old fast. The goal should be to create an emotional connection with your prospect. Keep this in mind when following up with prospects, and even when it comes to colding calling practices. Without creating an emotional impact on your prospect, you probably won't close the deal, even if you have a top-of-the-line product.
One way to connect with your prospects is to incorporate more in your pitch than just the old fashion script. Spice it up by adding some excitement into your messages. You may think it's frowned upon, but using humor when appropriate is another great way to break the ice with prospects and allow them to become more comfortable with you. Stand out by creating significant value for your prospects before even asking for the sale- you'll have much better results.

Research your potential prospects, establish your follow up strategy, make it unique, and stick to it. Find out what works best for you and add value with every touchpoint.