Back to News
Stop Losing Money to Third-Party Delivery Services
There is no denying that off-premise dining and curbside pickup are here to stay. Consumers have always loved the convenience of ordering from their smartphones and COVID-19 has only solidified the need for restaurants to make online and contactless ordering available.
The question is, are third-party delivery apps like GrubHub the only option for restaurants wanting to offer a contactless online ordering option?
How Third-Party Delivery Apps Work
Third-party delivery services like GrubHub, Uber Eats, and DoorDash mainly operate through smartphone apps that aggregate a plethora of restaurant options for diners to choose from. Participating restaurants upload their menu and business information making it easy for customers to order directly from their phones. A driver who works for the third-party delivery service then picks up the order and delivers it to the customer.
Benefits of Utilizing Third-Party Delivery Apps
Many small restaurants are too small to launch a delivery option of their own, so they are very reliant on delivery companies. Being included on the third-party apps also can expose restaurants to new customers that may not have heard about the restaurant.
How GrubHub Works via Mobile App Daily
Drawbacks of Third-Party Apps Like GrubHub
In some cases, restaurants have had to hire an extra person to spend a lot of their time packing up delivery orders and getting them ready for a driver to pick them up.
The biggest drawback, however, is the impact on a restaurant's revenue.
It's standard for these delivery vendors to take a large percentage of every order they send your way. Many charge 30% of the order total, which can be an unsustainable cost for restaurants that already operate on razor-thin margins.
Ultimately what's convenient and safe may not be good for restaurants. So what other options do restaurants have?
In April, San Francisco issued an emergency order stating that delivery apps must cap restaurant fees at 15%. It was reported that GrubHub asked its users to oppose the order, saying costs will rise by as much as $10 per order.
Aaron Holliday, a Payroc merchant, and owner of Señor Montana taco truck in Whitefish, Montana, recently shared his experience with the third-party delivery app, DoorDash.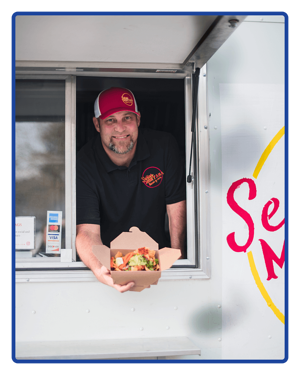 "I was excited to offer a new way for our community to experience our food, and the opportunity to expand my reach beyond just the people who can make it to our food truck. But after just a few weeks, I knew the model wasn't sustainable. In the food business, our margins are already so tight, that giving up 30% of sales makes using a third-party delivery app impossible for our business. Payroc's online ordering and payment solutions are a much better fit for our business." – Aaron Holliday, Señor Montana
What Alternatives To Third-Party Delivery Apps Do Restaurant Owners Have?
The good news is, there are other online ordering and payment solutions out there. Payroc has a simple and affordable website solution that encompasses a website, online ordering and marketing all in one place. And it can be up and running in just a few days.
Also, using Payroc's online ordering offering, merchants only pay $9.99 a month + 5% on every order with no setup fees or contracts - substantially more affordable than other third-party apps while still maintaining all the functionality.
In addition to delivery, the solution allows restaurants to use it for curbside, pickup, AND dine in. Now, using the same online ordering platform, customers can use this option to scan a QR code, place their order and pay for their order in the restaurant, for a total contactless solution.
Restaurants have had to make major pivots due to COVID-19. Being able to quickly get online and contactless ordering set up has been a game-changer for Payroc customers.
Tracy Stary, owner of McBride's Pub & Grille explained, "Like so many, I have been struggling with the new way of business during COVID-19. We added the online ordering system as a nice convenience for our guests and contactless service. I was pleasantly surprised not at only how easy it was to set up, receive orders and funds, but also by how much it has increased our sales. Each day our online sales are more online vs phone calls. The entire process was simple, fast and absolutely increased our sales which is a huge help during these uncertain times."
Conclusion
The bottom line is that all small businesses need an online presence during COVID-19, especially restaurants. If your business is looking for an affordable option that is mobile-friendly, can take online orders, is easy to manage, and has no setup fees or contracts, reach out to our team. We are here to help! Contact Annette and her team of Certified Payment Professionals today to get started.