With an increasingly competitive events industry, there is a lot of work that goes into hosting a marathon, summer camp, or charity event. Many event organizers are looking for innovative ways to streamline their workload and grow their event's reputation and overall participant satisfaction. A few major factors currently driving the event management market include the increasing number of smartphone users and the growing adoption of cloud-based solutions in conjunction with the introduction of software geared specifically toward streamlining event management.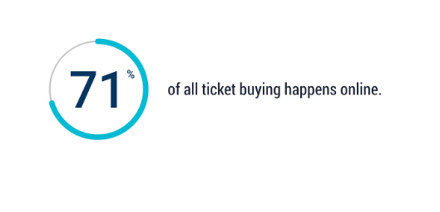 North America Event Registration Software Market is expected to reach USD 2.14 Billion by 2022. With 71% of all event tickets being purchased online, it's no wonder the trend is to take all elements of event management viral with online registration software. Still hesitant to make the switch? Here are some advantages to online event registration you may not have considered before:
It Saves You Money
A large component that makes many event organizers and companies hesitant to purchase event management software is the idea that it's just too expensive. According to a survey conducted by Capterra, 28% of respondents didn't buy event management software because they couldn't justify the expenses to management.. The study also showed that 59% spent less than $1,000 a month on their software, while 31% spend $500 or less.
Assuming you'll spend a lot is understandable. But as it turns out, 48% of registration software users spent less money than expected, meaning finding competitively priced software is entirely possible.
Increase ROI
So we discovered there are affordable event management softwares, but is it worth the investment? It's safe to say that every organization wants to reduce overhead and increase revenue. When factoring in their return on investment, Capterra's study showed 61% of software users experienced an increase in sales and 58% said event attendance increased after purchasing event management software.
It seems clear that it's well worth the investment, and as the data shows, the software expenses are exhausted by the participants rather than the company itself.
Quick and Easy Registration
With 50% of event revenue coming straight from registration, it's important to have registration entry that is a fast and seamless experience for participants. Paper registration requires a long and daunting process. Downloading the form, then comes printing, filling it out, and don't forget they either pay postage to mail it back or get in their car to drop it off. It's a hassle to say the least. Not to mention the time and manpower required from your team to file and organize all those forms.
Softwares like Payscape Registration make it easy with cloud-based registration solutions. Registrants can quickly fill out an online form, pay online, and submit everything to your database within minutes, creating convenience for you and the registrant. Instant confirmation emails and digital receipts give your attendees peace of mind. Plus the inclusion of an online payment gateway makes it easy to accept both e-checks and card payments.
70% of event programmers said the viral nature of an event is extremely important, and that starts with your registration process.

If you want to stick with the old fashion way, we invite you to download these free customizable registration templates:
Ready to take your event to the next level? Ditch the paperwork and manage all of your business operations from anywhere online. Click below to sign up for a free live demo of Payscape's registration software: